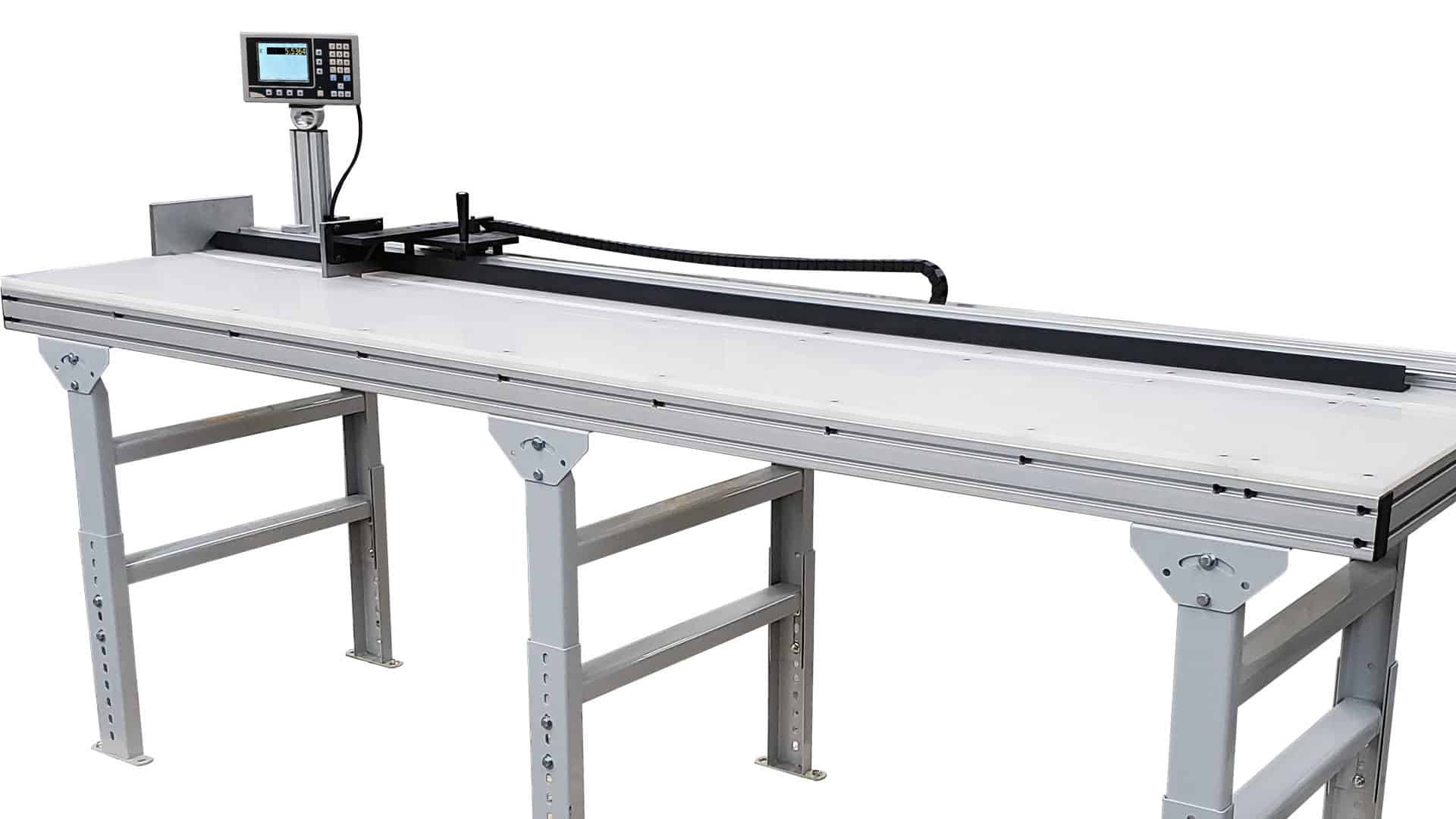 MMT – Dimensional Measuring Gauge with Table
Measuring gauge integrated into a free-standing table.
The Kentucky Gauge MMT Digital Measuring Gauge is designed to simplify the quality control process of measuring overall part dimensions. The MMT functions similarly to digital calipers, but features a more robust construction. Additionally, the integrated table prevents the operator from needing to hold the part or the measuring tool, which can often be cumbersome with larger parts.
With over 100 points of segmented error compensation and our high-resolution, non-contact linear encoder, near-perfect accuracy at lengths up to 20ft and beyond can be achieved.
Multiaxis versions available!
Ready to put Kentucky Gauge to work for you?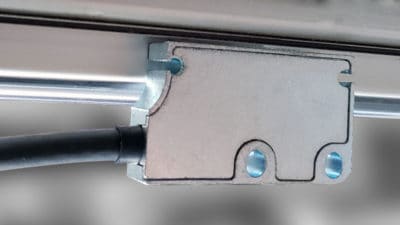 Non-Contact and Wear-Free Linear Encoder
Our encoders use magnetic sending technology, so they work without contact and ensure a virtually wear-free and maintenance-free operation. This ensures high-accuracy measurements for a lifetime.
Unlike rotary encoders, there are no moving parts. All the mechanical components found in rotary encoders (flange, shaft, bearings, etc.) are not needed, which eliminates mechanical failures and deficiencies.
Absolute LCD Digital Readout
The MMT digital readout features a high-vis LCD display with multi-point compensation to to provide maximum accuracy and absolute precision.
Features include:
Inch or mm display
Simulated absolute encoder functionality to ensure you do not lose positional information when the readout is powered off.
Swivel mount to ensure visibility from all angles.
5.7″ color TFT screen
Segmented linear error compensation for near perfect measurement accuracy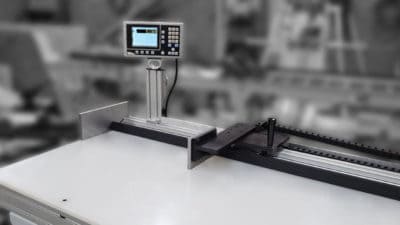 Quick and Simple Measurements with the Integrated Mar-Free Table
Our tables come standard with a polypropylene table top to ensure minimal wear and a mar-free working surface. Each table incorporates height-adjustable stands to allow you to set the perfect working height for your operators.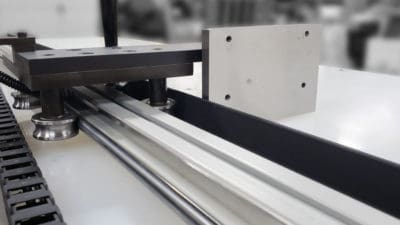 Maintenance-Free Roller Bearings
The MMT utilizes sealed roller bearings made from the highest quality stainless steel. The high-grade roller bearings ensure a smooth and precise carriage travel.
Made to last a lifetime, we have never had a roller bearing failure in over 20 years!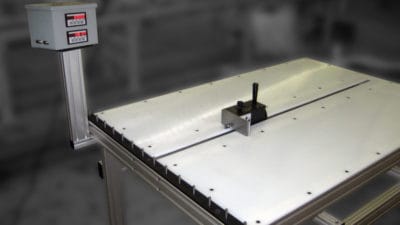 Customized to Fit Your Needs
Need a custom jaw size? NO PROBLEM.
Need a custom table? NO PROBLEM.
You tell us what you need and dedicated production team will make it happen.
Resolution

LCD digital readout with a display range from -999999 to 999999.

0.0002″, 0.005mm
System Repeatability

Overall system accuracy varies based on system length.

Multi-point compensation feature included to greatly improve system accuracy.

± 0.0002″ / 0.005mm
Jaw Size

Precision ground tool steel jaws with a 6″ wide x 4″ tall standard size.

Custom sizes are available!

6″ x 4″
Operating Temperature

Wide operating range with stable temperatures.

5°C – 45°C
Protection

Rugged protection that can be used in any shop environment or conditions.

Scale: IP67, Readout: IP54 (front)
Power Supply

Our standard readout features a universal power supply with an input range of 85-264 VAC and a frequency from 45-400 Hz.

Universal 85-264 VAC
Measuring Technology

Unlike capacitive technology, magnetoresistive technology is much more rugged and resistance to liquids, oils, and debris.

Magnetoresistive
Measuring Range

Unlike our competitors, we're not limited to a few standard sizes. We can build our systems to ANY length that you require.

UNLIMITED
Dimensional drawings are provided as a reference only. Due to customization options and ongoing updates, dimensions are subject to change without notice.
Due to the large selection of customization options, manuals are provided as general guidelines only. Supplemental material is provided for customized features.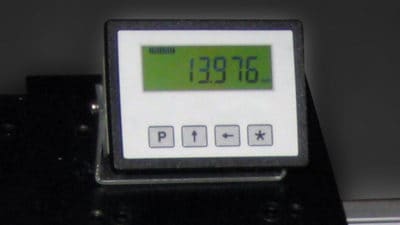 Battery Powered Digital Readout
The battery powered digital readout features a 7 segment LCD screen with optional RS232 port for SPC output.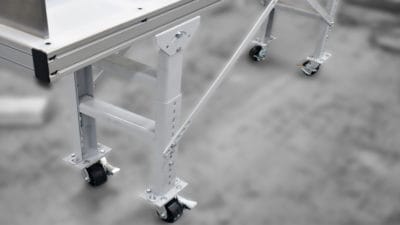 Caster Wheels
The optional caster wheels enable you to transport the measuring system throughout your shop to ensure all phases of production are producing accurate parts.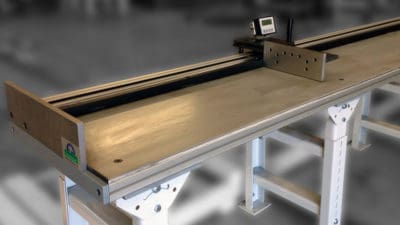 Steel Table Top
Various steel table top options available, replacing the polypropylene table top, for a more abrasion-resistant surface.