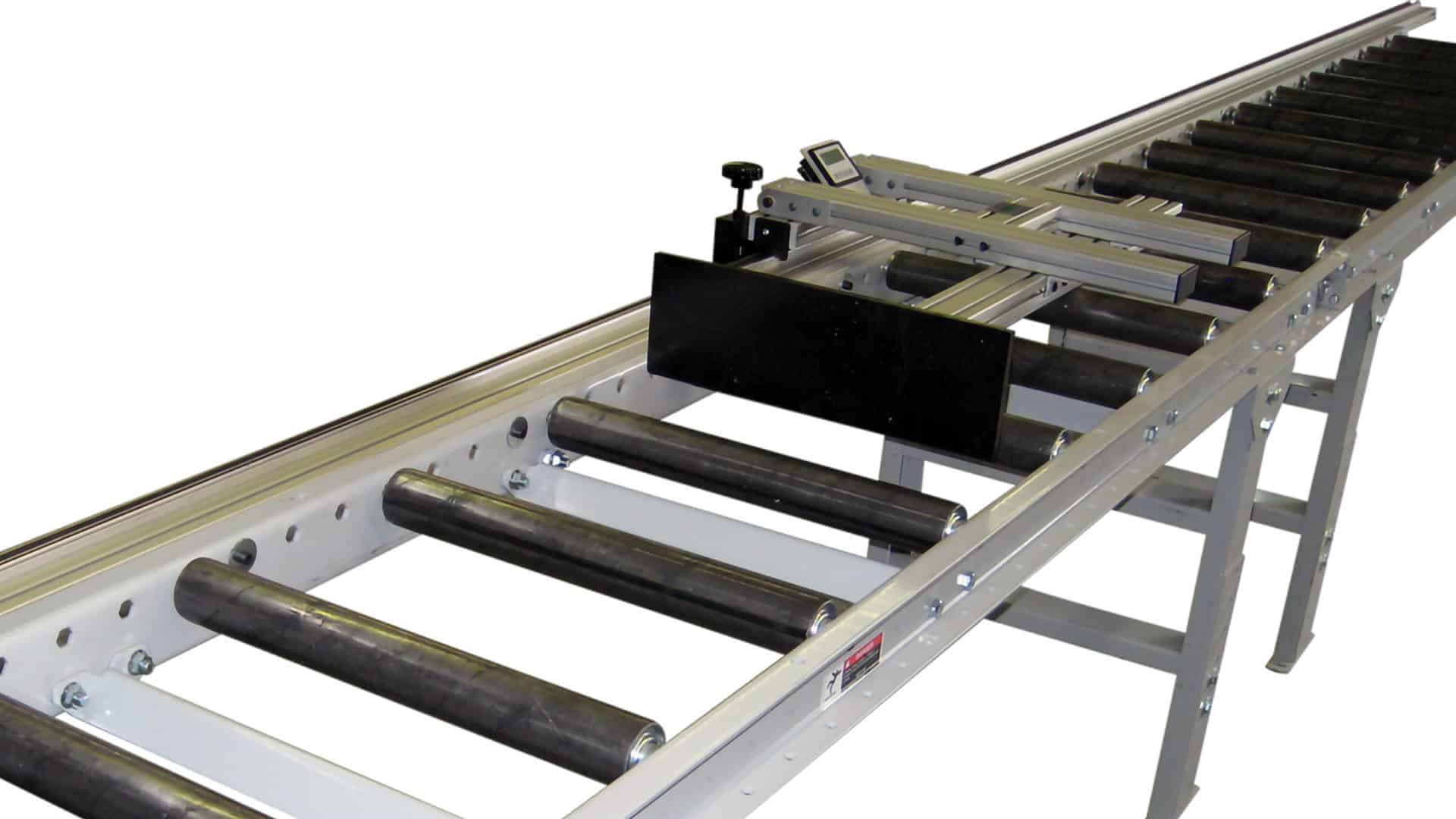 MD100D – Heavy Duty Length Stop
Heavy duty manual length stop gauge system with digital readout.
The rugged Kentucky Gauge MD100D heavy duty manual stop system with digital readout offers a cost effective way to boost productivity. The maintenance-free stainless steel roller bearings allow the operator to quickly move the gauge into position while the integrated fine-tune adjustment feature enables high precision positioning. A quick turn of the lever locks the gauge into position to ensure precise and repeatable measurements. This highly accurate machine can help increase your efficiency, while reducing your fabrication cycle times.
Compared to the MD50D, the MD100D offers a larger carriage system with more bearings and additional space for mounting additional components and fixtures.
The MD100D is perfect for any ferrous and non-ferrous fabricating equipment that requires accurate and repeatable positioning:
Cold Saws
Upcut Saws
Column Saws
Band Saws
Drills
Ironworkers
Punch Presses
Shears
Press Brakes
Custom machinery and more!
Ready to put Kentucky Gauge to work for you?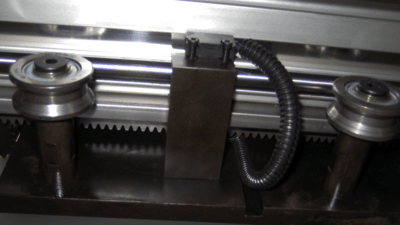 Non-Contact and Wear-Free Linear Encoder
Our encoders use magnetic sending technology, so they work without contact and ensure a virtually wear-free and maintenance-free operation. This ensures high-accuracy measurements for a lifetime.
Unlike rotary encoders, there are no moving parts. All the mechanical components found in rotary encoders (flange, shaft, bearings, etc.) are not needed, which eliminates mechanical failures and deficiencies.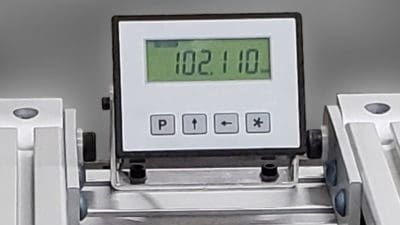 Battery Powered LCD Digital Readout
Our digital readouts are powered by the standardized and readily available C battery with a battery life up to 12 months*.
Features include:
Inch, mm, or fractional display with direct button conversion between inch and mm.
Can be zeroed or referenced anywhere along the guide rail
Battery life indicator
*Dependent on battery type and usage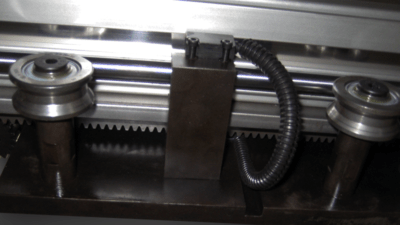 Maintenance-Free Bearings
The MD100D utilizes six sealed and maintenance-free stainless steel roller bearings. These bearings are greased-for-life and provide smooth extremely smooth movement along the guide rail.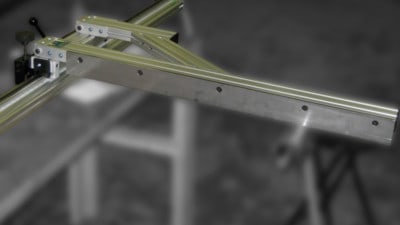 Customized to Fit Your Needs
Need a custom stop plate? NO PROBLEM.
Need a longer arm? NO PROBLEM.
You tell us what you need and dedicated production team will make it happen.
Resolution

LCD digital readout with a display range from -999999 to 999999.

0.001″, 0.01mm, 1/64″ (on request)
System Repeatability

Overall system accuracy varies based on system length.

± 0.001″ / 0.01mm
Faceplate Size

Steel faceplate. Custom sizes available.

4″ x 5″
Operating Temperature

Wide operating range with stable temperatures.

0°C – 50°C
Protection

Rugged protection that can be used in any shop environment or conditions.

Scale: IP67, Readout: IP60 (front)
Power Supply

A battery indicator on the readout displays the estimated remaining battery life.

'C' battery
Measuring Technology

Unlike capacitive technology, magnetoresistive technology is much more rugged and resistance to liquids, oils, and debris.

Magnetoresistive
Measuring Range

Unlike our competitors, we're not limited to a few standard sizes. We can build our systems to ANY length that you require.

Unlimited
Dimensional drawings are provided as a reference only. Due to customization options and ongoing updates, dimensions are subject to change without notice.
Due to the large selection of customization options, manuals are provided as general guidelines only. Supplemental material is provided for customized features.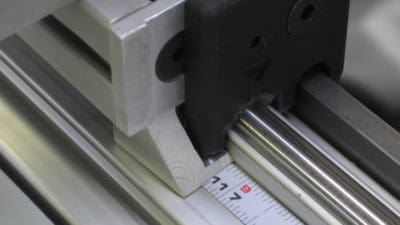 Non-Digital Version
If your accuracy requirements do not require a digital readout, we offer an MD100 with a steel tape rule with 1/16″ / 1mm graduations.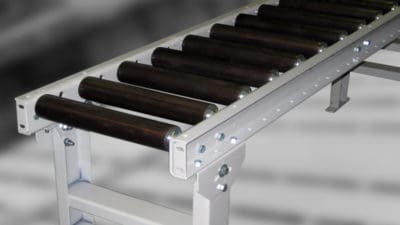 Roller Conveyor
We offer various roller conveyor options, including widths, heights, weight capacities, and roller options. Check out the full selection and options here.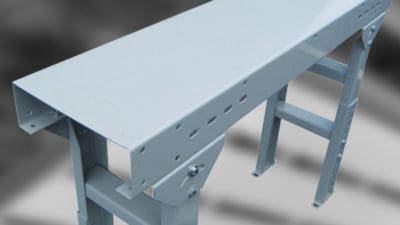 Steel Top Flat Tables
Made from powder painted 10ga rolled steel. We offer various options, including varying widths and heights. Standard widths are 12″, 16″ and 22″.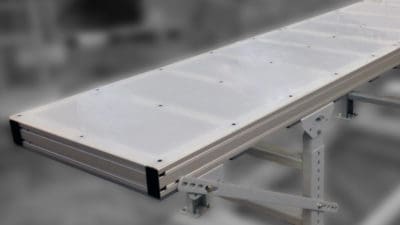 Mar-Free Flat Tables
These custom made tables feature a polypropylene table top surface to ensure your materials remain free from scratches and scuffs during production.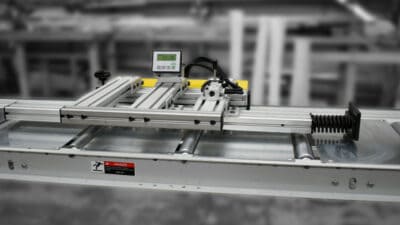 HD Upgrade Package
The HD upgrade package includes a shock absorber arm and dual air brake system to maximize stopping power and holding force.