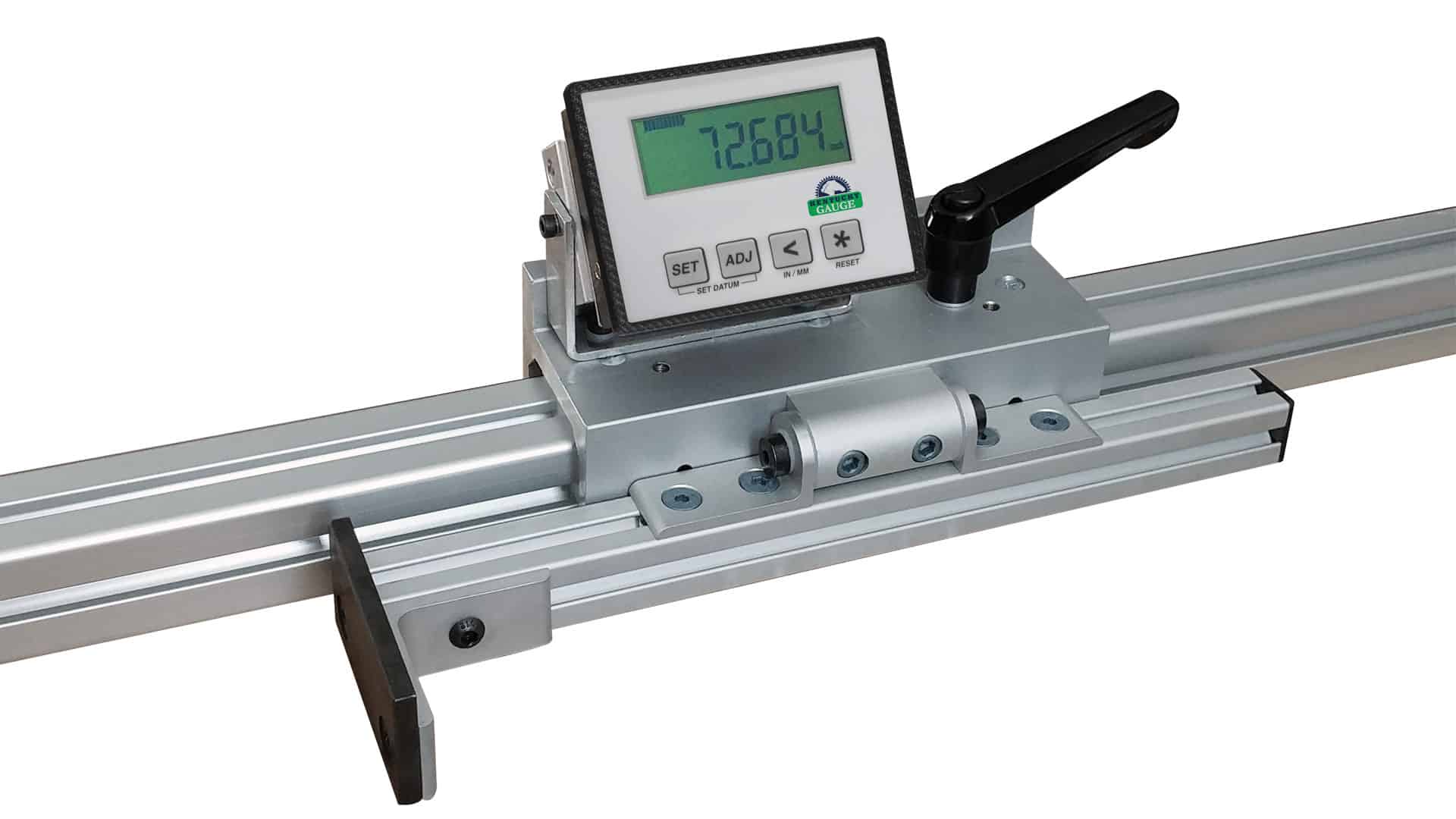 MD10D – Digital Length Stop System
Cost-effective length stop gauge system.
The Kentucky Gauge MD10D manual stop system offers a cost-effective way to boost productivity and increase positioning accuracy. Equipped with an IP67 rated linear encoder and digital readout that boasts resolutions of 0.001″ / 0.01mm, you can avoid miscuts while reducing material waste.
The MD10D is perfect for any ferrous and non-ferrous fabricating equipment that requires accurate and repeatable positioning:
Cold Saws
Upcut Saws
Column Saws
Band Saws
Drills
Ironworkers
Punch Presses
Shears
Press Brakes
Custom machinery and more!
Ready to put Kentucky Gauge to work for you?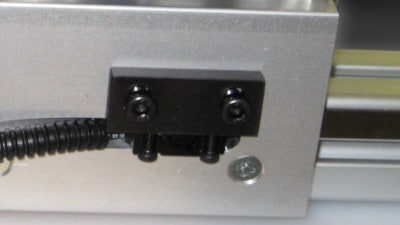 Non-Contact and Wear-Free Linear Encoder
Our encoders use magnetic sending technology, so they work without contact and ensure a virtually wear-free and maintenance-free operation. This ensures high-accuracy measurements for a lifetime.
Unlike rotary encoders, there are no moving parts. All the mechanical components found in rotary encoders (flange, shaft, bearings, etc.) are not needed, which eliminates mechanical failures and deficiencies.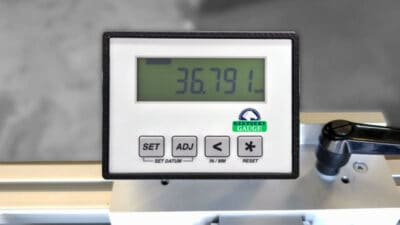 Battery Powered LCD Digital Readout
Our digital readouts are powered by the standardized and readily available C battery with a battery life up to 12 months*.
Features include:
Inch, mm, or fractional display with direct button conversion between inch and mm.
Can be zeroed or referenced anywhere along the guide rail
Battery life indicator
*Dependent on battery type and usage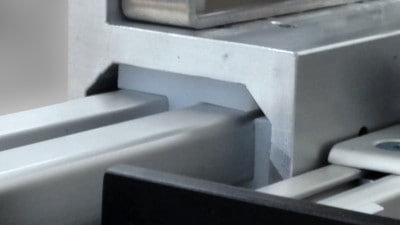 Maintenance-Free Bearings
The MD10D utilizes a self-lubricating UHMW bearing pad. This material has a low coefficient of friction, which ensures a smooth carriage travel.
Unlike roller bearings, there is no required lubrication or concerns about breakdown. Thus, maintenance costs and downtime are virtually eliminated.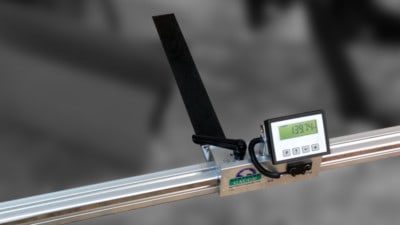 Customized to Fit Your Needs
Need a custom stop plate? NO PROBLEM.
Need a longer arm? NO PROBLEM.
You tell us what you need and dedicated production team will make it happen.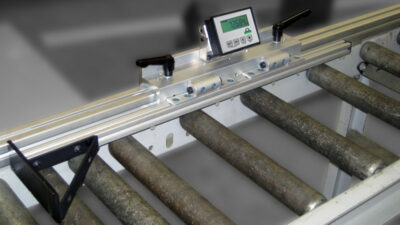 Heavy Duty Upgrade Package
The MD10D-HD upgrade package offers increased stopping power and includes:
Longer carriage to provide increased stability and rigidity.
Dual hinge assembly allows a longer arm for extended reach. Overall arm length increased to 18″ (longer on request).
Double brake system for increased holding and stopping power.
Increased faceplate size: 2″ x 6″
Resolution

LCD digital readout with a display range from -999999 to 999999.

0.001″, 0.01mm, 1/64″ (on request)
System Repeatability

Overall system accuracy varies based on system length.

± 0.001″ / 0.01mm
Faceplate Size

Steel faceplate. Custom sizes available.

1.5″ x 3.0″
Operating Temperature

Wide operating range with stable temperatures.

0°C – 50°C
Protection

Rugged protection that can be used in any shop environment or conditions.

Scale: IP67, Readout: IP60 (front)
Power Supply

A battery indicator on the readout displays the estimated remaining battery life.

'C' battery
Measuring Technology

Unlike capacitive technology, magnetoresistive technology is much more rugged and resistance to liquids, oils, and debris.

Magnetoresistive
Measuring Range

Unlike our competitors, we're not limited to a few standard sizes. We can build our systems to ANY length that you require.

Unlimited
Dimensional drawings are provided as a reference only. Due to customization options and ongoing updates, dimensions are subject to change without notice.
Due to the large selection of customization options, manuals are provided as general guidelines only. Supplemental material is provided for customized features.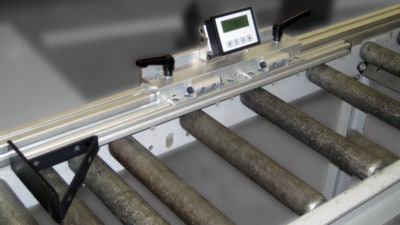 MD10D-HD
Featuring a reinforced stop arm and a double brake, the MD10D-HD is excellent for heavier loads and accidental impacts.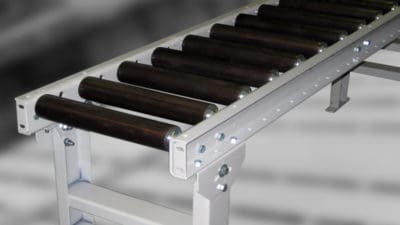 Roller Conveyors
We offer various roller conveyor options, including widths, heights, weight capacities, and roller options. Contact us for more info.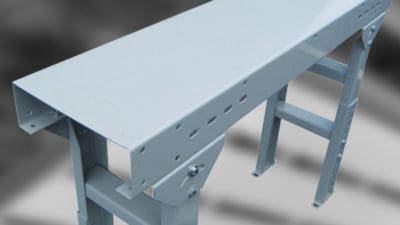 Steel Top Flat Tables
Made from powder painted 10ga rolled steel. We offer various options, including varying widths and heights. Standard widths are 12″, 16″ and 22″.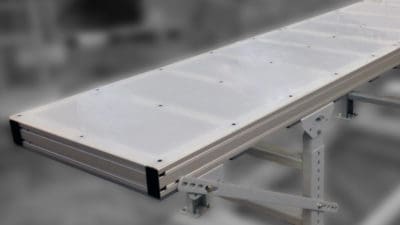 Mar-Free Flat Tables
These custom made tables feature a polypropylene table top surface to ensure your materials remain free from scratches and scuffs during production.