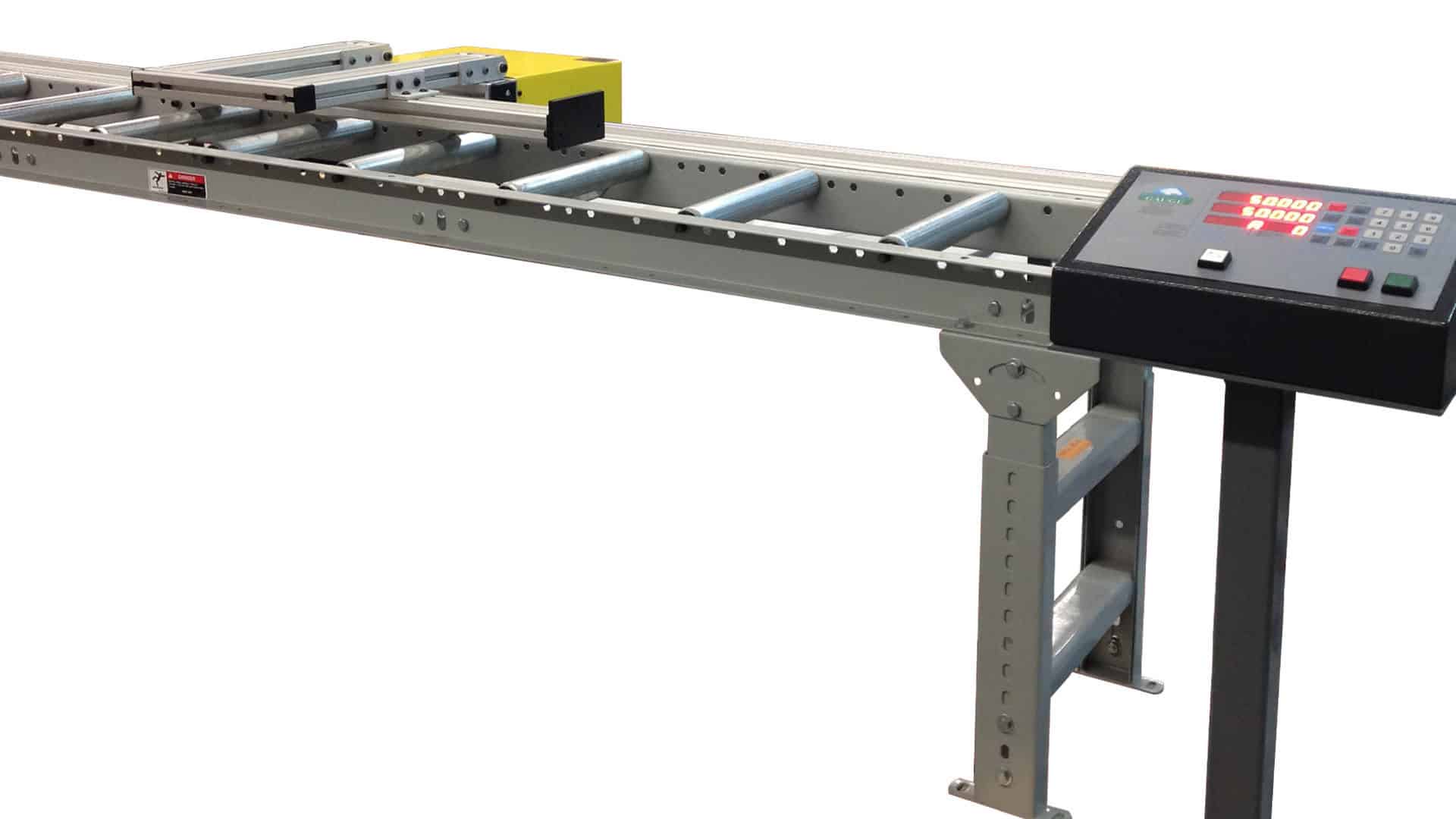 PD100 – Auto Stop / Pusher System
Heavy-duty rack and pinion drive system. Can turn any semi-auto production operation into a fully automated work cell.
The Kentucky Gauge PD100 saves time and money with quick and precise positioning. Equipped with a rack and pinion drive and a high-accuracy, non-contact linear encoder, the PD100 ensures the industry's most rugged, long lasting and accurate automatic gauging solution is ready for integration with any new or existing production and fabrication equipment.
The PD100 is perfect for any ferrous and non-ferrous fabricating equipment:
Cold Saws
Upcut Saws
Column Saws
Band Saws
Drills
Ironworkers
Punch Presses
Shears
Press Brakes
Custom machinery and more!
Ready to put Kentucky Gauge to work for you?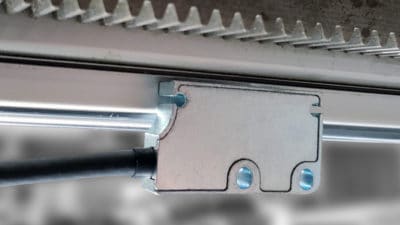 5-Micron Linear Encoder – Non-Contact and Wear-Free
Our linear encoders boast a resolution of 0.005mm, allowing you to achieve unparalleled length accuracies. The non-contact nature of these encoders ensures high-accuracy measurements for a lifetime.
Unlike rotary encoders, there are no moving parts. All the mechanical components found in rotary encoders (flange, shaft, bearings, etc.) are not needed, which eliminates mechanical failures.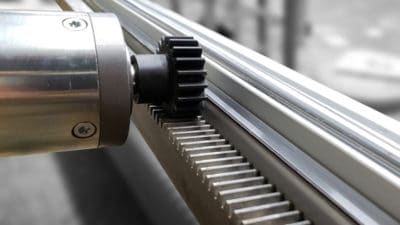 Rack and Pinion Drive – Rugged and Reliable
Unlike belt drive systems, our rack and pinion drive isn't prone to wear or fatigue. Moreover, we're not limited by the belt length. We can build the PD100 to measure ANY LENGTH that you require.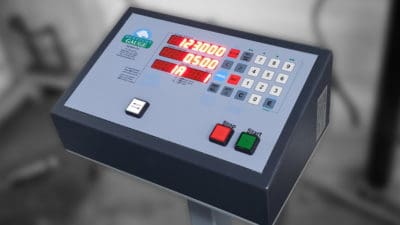 Fully Programmable with I/O's for any Equipment or Tool
Our controllers are fully programmable to do exactly what you need them to do. The controllers are simple to program at the keypad without requiring specialized training. If you require nesting and optimization, programs can be optimized using Excel and downloaded to the controllers using our supplied software.
We also include a free-standing controller stand that allows you to place the controller where it's most convenient for your operators.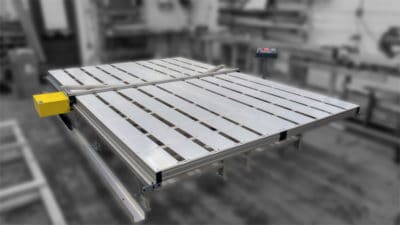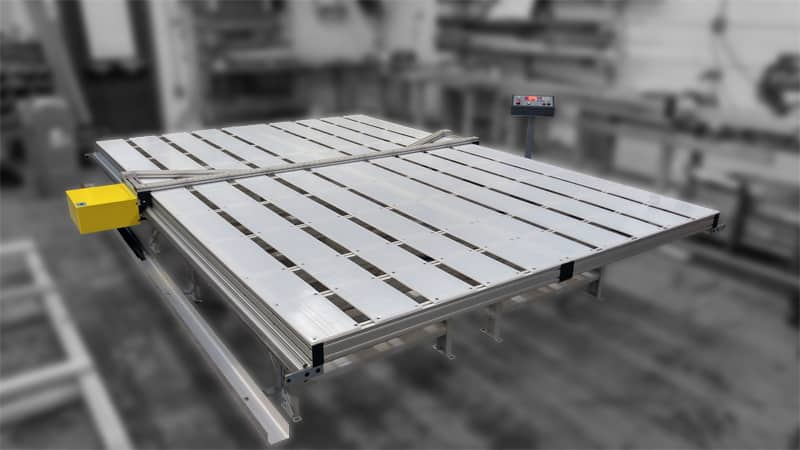 Customized to Fit Your Needs
Need a custom gripper to feed irregular shapes? NO PROBLEM.
Need a custom table or conveyor system? NO PROBLEM.
You tell us what you need and dedicated production team will make it happen.
Resolution

LCD controller with fractional display available on request.

0.001″, 0.01mm, 1/64″ (on request)
Encoder Accuracy

Non-contact and wear-free magnetic linear encoder.

± 0.0005″
System Repeatability

Overall system accuracy varies based on system length.

± 0.001″ / 0.01mm
Travel Speed

For smooth and accurate positioning, our motor drive incorporates acceleration and deceleration speed ramps, which can affect overall speed when pushing heavy weights.

Additional gearbox ratios available to adjust speed and/or pushing capacity

20″ / sec
Program Memory

Additional programs can be stored on a PC and downloaded to our controllers using our DAVe software.

3000 individual positions
Arm Length

Additional lengths available on request.

36″
Steel Faceplate

Additional sizes available on request.

3″ x 5″
Measuring Range

Unlike our competitors, we're not limited to a few standard sizes. We can build our systems to ANY length that you require.

Unlimited
Dimensional drawings are provided as a reference only. Due to customization options and ongoing updates, dimensions are subject to change without notice.
Due to the large selection of customization options, manuals are provided as general guidelines only. Supplemental material is provided for customized features.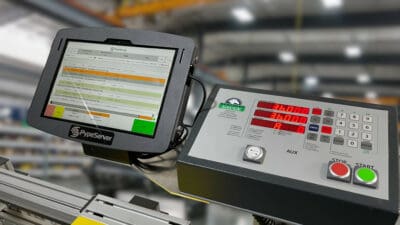 PypeServer Lyte Tablet Package
Turnkey tablet addon package with 1 year of PypeServer Lyte.
Barcode Scanner
The barcode scanner allows the operator to scan a barcode to set the desired position/measurement for the stop arm.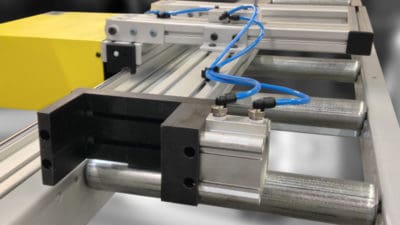 Universal Gripper
Designed to clamp the outer edges of all shapes and sizes of materials. A true universal solution for any material type, size, and shape.
Custom versions also available.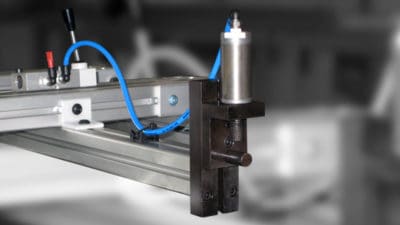 Pipe & Tube Gripper
Designed to pinch the wall of tubes to hold parts during automated pushing. This gripper can also be used for other hollow or odd shapes materials.
Custom versions also available.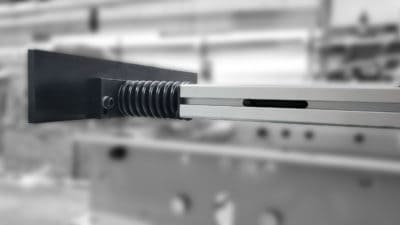 Spring Buffer Stop Arm
This heavy duty stop arm is perfect for stopping heavy loads while protecting your PD100. The spring buffer absorbs the shock from material slamming into the stop arm, perfect for structural beams and bundled material.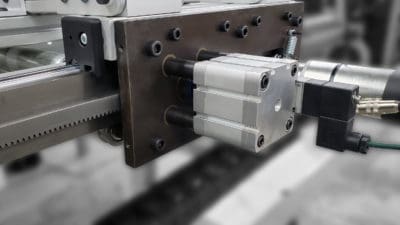 Pneumatic Brake
Boasting 1,870 N at only 87 psi, our pneumatic brake upgrade option enables additional stopping and holding force for extra heavy-duty production applications.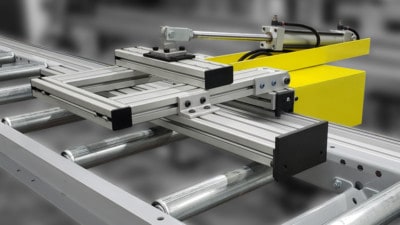 Pneumatic Arm Lift
The pneumatic arm lift assembly provides a simple, switch-activated arm lift to allow heavier materials to be rolled down the conveyor rather than lifted, increasing operator safety.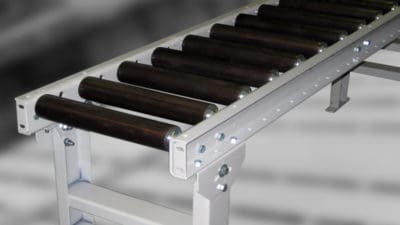 Roller Conveyors
We offer various roller conveyor options, including widths, heights, weight capacities, and roller options. Check out the full selection and options here.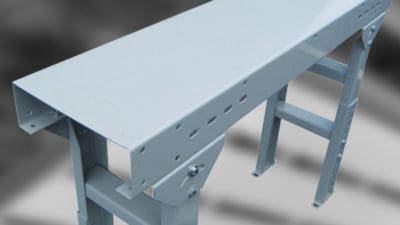 Steel Top Flat Tables
Made from powder painted 10ga rolled steel. We offer various options, including varying widths and heights. Standard widths are 12″, 16″ and 22″.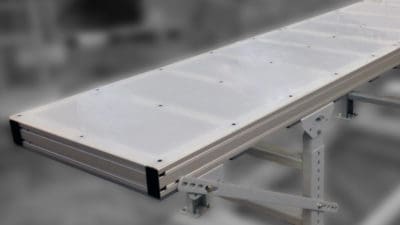 Mar-Free Flat Tables
These custom made tables feature a polypropylene table top surface to ensure your materials remain free from scratches and scuffs during production.