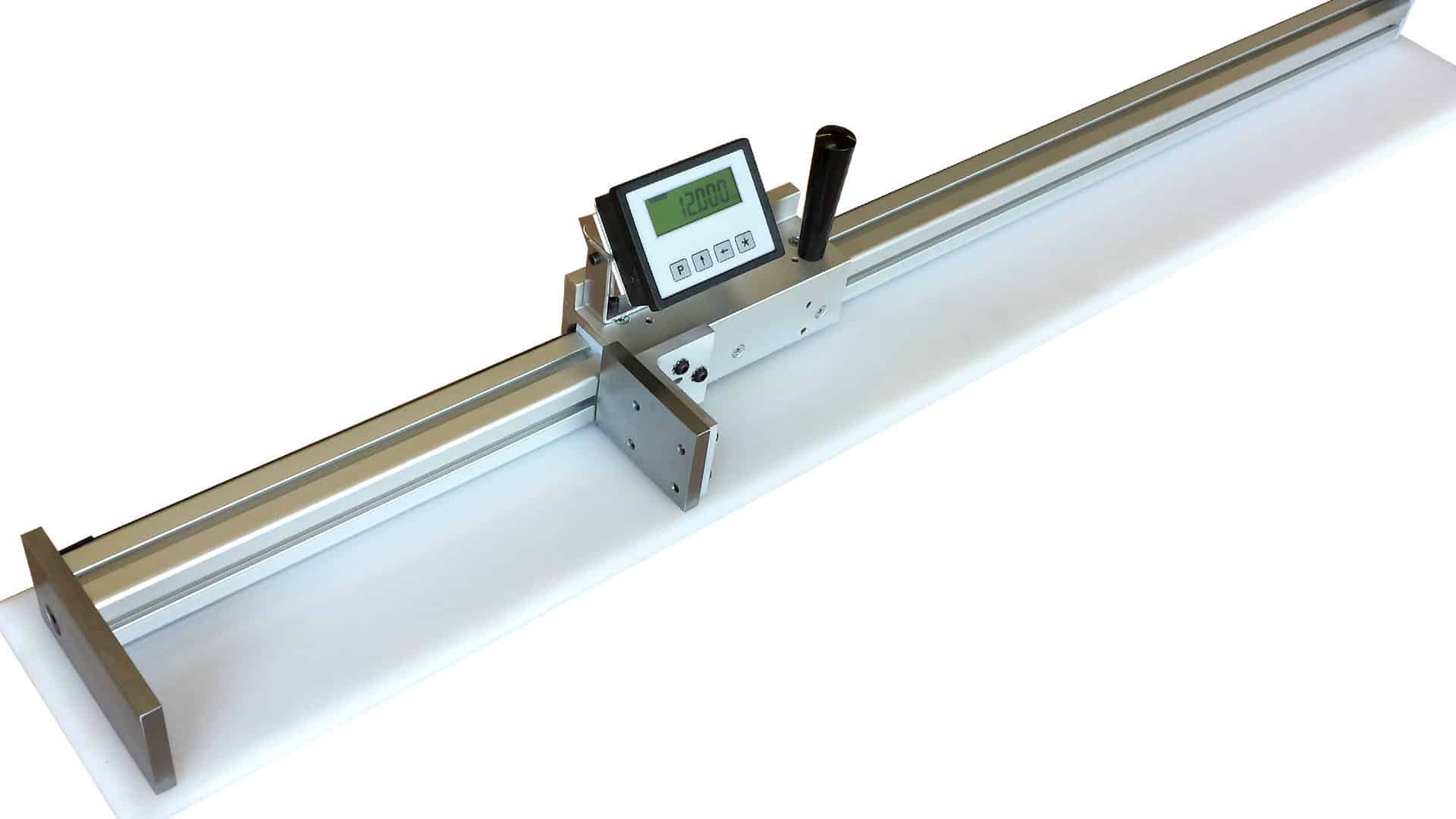 MMP – Dimensional Measuring Gauge
Cost-effective and portable digital caliper alternative.
The Kentucky Gauge MMP Digital Length Gauge offers a rugged alternative to delicate calipers that often get lost or damaged.
Not only does the MMP boast larger jaws than calipers, it is also available in longer lengths and offers an optional non-marring surface for the material to rest while being measured. Thus, eliminating errors from the tool being misaligned with the surface of the part.
Ready to put Kentucky Gauge to work for you?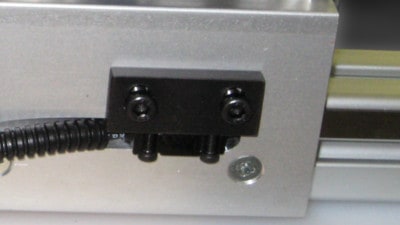 Non-Contact and Wear-Free Linear Encoder
Our encoders use magnetic sensing technology, so they work without contact and ensure a virtually wear-free and maintenance-free operation. This ensures high-accuracy measurements for a lifetime.
Unlike rotary encoders, there are no moving parts. All the mechanical components found in rotary encoders (flange, shaft, bearings, etc.) are not needed, which eliminates mechanical failures and deficiencies.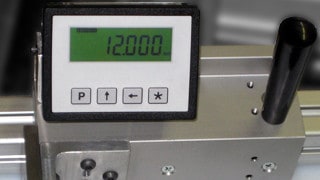 Battery Powered LCD Digital Readout
Our digital readouts are powered by the standardized and readily available C battery with a battery life up to 12 months*.
Features include:
Inch, mm, or fractional display with direct button conversion between inch and mm.
Can be zeroed or referenced anywhere along the guide rail
Battery life indicator
*Dependent on battery type and usage
Prevent Part Misalignment with the Mar-Free Base
One of the biggest problems with digital calipers is the measurements are subject to variation between operators due to misaligning the jaws with the parts being measured. We solved that by taking away the need to align the part. With the MMP, simply place the part on the base and close the jaws. No more worrying about ensuring the part is square within the measuring jaws.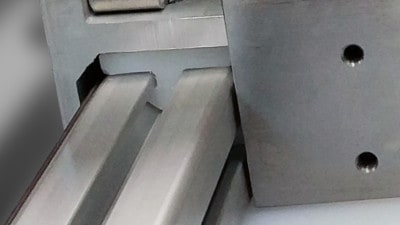 Maintenance-Free Bearings
The MMP utilizes a self-lubricating UHMW bearing pad. This material has a low coefficient of friction, which ensures a smooth carriage travel.
Unlike roller bearings, there is no required lubrication or concerns about breakdown. Thus, maintenance costs and downtime are virtually eliminated.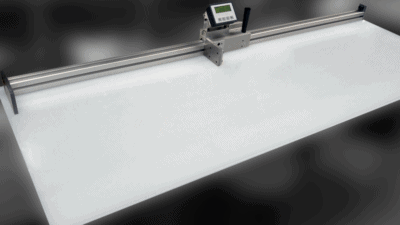 Customized to Fit Your Needs
Need a custom jaw size? NO PROBLEM.
Need a custom base or table? NO PROBLEM.
You tell us what you need and dedicated production team will make it happen.
Resolution

LCD digital readout with a display range from -999999 to 999999.

0.001″, 0.01mm, 1/64″ (on request)
System Repeatability

Overall system accuracy varies based on system length.

± 0.001″ / 0.01mm
Jaw Size

Precision ground tool steel jaws.

3.375″ x 2.50″
Operating Temperature

Wide operating range with stable temperatures.

0°C – 50°C
Protection

Rugged protection that can be used in any shop environment or conditions.

Scale: IP67, Readout: IP60 (front)
Power Supply

A battery indicator on the readout displays the estimated remaining battery life.

'C' battery
Measuring Technology

Unlike capacitive technology, magnetoresistive technology is much more rugged and resistance to liquids, oils, and debris.

Magnetoresistive
Measuring Range

Unlike our competitors, we're not limited to a few standard sizes. We can build our systems to ANY length that you require.

UNLIMITED
Dimensional drawings are provided as a reference only. Due to customization options and ongoing updates, dimensions are subject to change without notice.
Due to the large selection of customization options, manuals are provided as general guidelines only. Supplemental material is provided for customized features.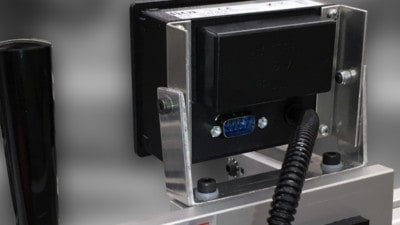 RS232 Port
The RS232 port on the backside of the readout allows our SPC options to connect to the readout for exporting the displayed measurements to a computer.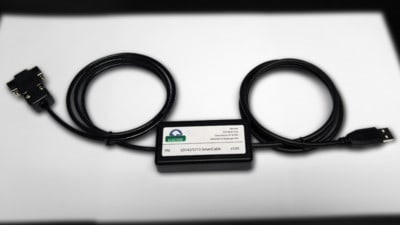 SPC Cable
The SPC cable is approximately 72″ long and connects to a USB port on your PC to enable the displayed measurements to be transmitted directly to a Windows PC.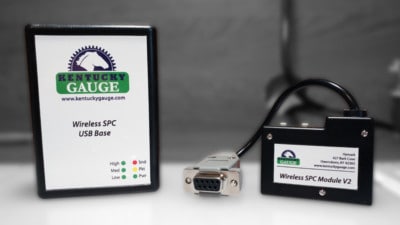 Wireless SPC Module
The Wireless SPC package consists of two modules that enable the operator to transmit the displayed measurement to Windows/iOS.
Download the datasheet.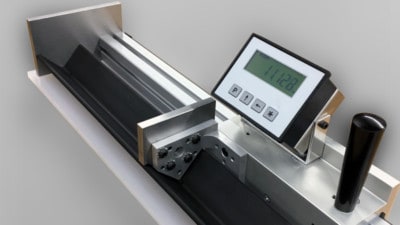 V-Channel Base
The v-channel options is designed for customers that are measuring only round parts. The v-channel, running the length of the MMP, supports round parts while keeping them straight and centered.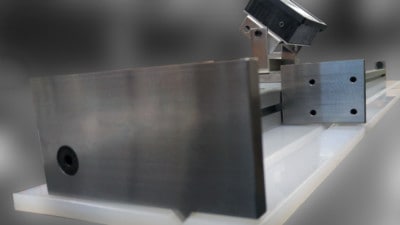 V-Groove Base
The v-groove base is perfect for customers that need to measure various shapes, including round parts. A small v-groove is added to the base for round parts, while the remainder of the base allows for additional shapes with flat resting points.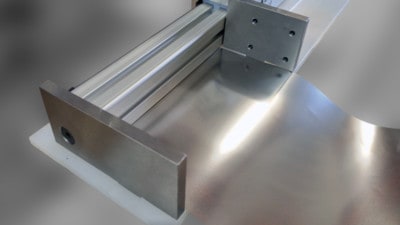 Thin Sheet Measuring
Our thin sheet option prevents thin sheeting material, such as shim stock, from slipping underneath the jaws during the measurement process. Thus, eliminating mismeasurements.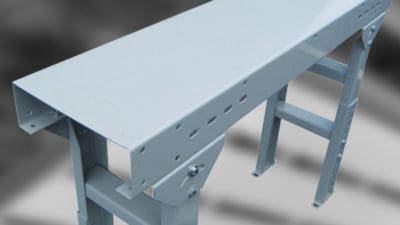 Steel Top Flat Tables
Made from powder painted 10ga rolled steel. We offer various options, including varying widths and heights. Standard widths are 12″, 16″ and 22″.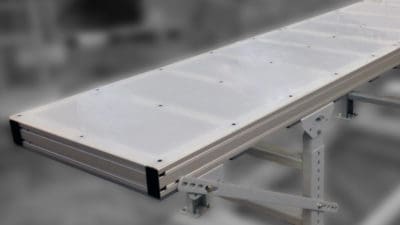 Mar-Free Flat Tables
These custom made tables feature a polypropylene table top surface to ensure your materials remain free from scratches and scuffs during production.